Porta Potty Rentals for all of Chattanooga, TN
If as a contractor you're not acquainted with the importance of portable toilet rentals in Chattanooga, then you must have been living under a rock the last few years. Getting clean temporary restrooms for one's construction team has long gone from a "considerate thing to do" to being something absolutely crucial for a project's success.
Nevertheless, the construction industry is not the only one in which renting temporary toilets is necessary. In fact, a lot of our clients aren't even companies - they're regular every day guys that know a large party simply demands this type of service! Moreover, we regularly work with town halls in this part of Tennessee to provide clean sanitation for parks and other recreational areas.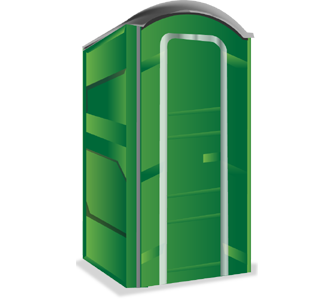 Clean Chattanooga Temporary Toilets For Construction Jobs
It doesn't take an HR expert to figure out that the happier your workers are, the better they are going to perform. Let's take an example representing the typical construction job: a company is constructing a new mall in a town near Chattanooga and there are no other buildings in the immediate vicinity. Now think about what's going to happen if the contractor neglects Valley porta potty rentals. It's going to be a disaster - the builders are going to have to walk a lot before finding a clean restroom (most of them have really long schedules too!), so their productivity will likely be halved.
On the other hand, if the contractor not only gets portable sanitation quickly, but he gets it from an experienced provider like Valley Dumpsters the outcome is vastly different. Everyone is happier, more productive and someone is definitely going to build the reputation of someone who takes care of every detail.
Hosting The Family Reunion Again? You'll Need This...
Think about the last time you hosted the annual family bbq. Sure enough, you had a lot of time seeing your cousins and telling stories from your childhood, but what's not so fun is cleaning up afterwards. There is, however, something you can do to make things much easier: rent a porta potty in Chattanooga! With our help you'll get a cheap, clean and nice looking portable toilet that's going to amaze everyone at the party.
Just think about how much you risk spending on plumbing fees - it's worth a quick phone call to our listed number, isn't it?
Parks, Concerts And Other Similar Situations
Here at Valley Dumpsters we offer a wide array of portable toilet rentals, so you can safely call and talk to us regardless of what you're dealing with. If your company is organizing a large festival in Chattanooga you'll definitely need at least 10 porta pottys, so that's why we believe our low prices will please you.
However, if you're hosting a party in your back yard you're going to want something a little bit fancier - don't worry, we have exactly what you need and we'll offer it for a surprisingly low price rate. It doesn't really matter what you're dealing with - we've been on the market for so long that we've surely seen it before and know how to hook it up with the best possible Chattanooga porta potty rental!
Dumpster Sizes in Chattanooga
10 Yard Roll Off Dumpster Rentals
15 Yard Roll Off Dumpster Rentals
20 Yard Roll Off Dumpster Rentals
30 Yard Roll Off Dumpster Rentals
40 Yard Roll Off Dumpster Rentals
Other Cities Near Chattanooga
Chattanooga Zip Codes:
37401 37402 37403 37404 37405 37406 37407 37408 37409 37410 37411 37412 37414 37415 37416 37419 37421 37422 37424 37450
Nearby Chattanooga Location:
Valley Dumpsters
2288 Gunbarrel Rd
Chattanooga, TN 37421
423-243-3049